It's a blustery, rainy cold day here in the Northeast. We are having what we New Englanders know as a Nor'Easter or, in other words, a really bad storm.  Luckily where I live we are getting buckets of rain instead of shovels of snow, but that leads to its own host of problems, like my newly groomed dog begging to go outside and romp in what looks like small ponds in my yard.
Rain, snow, cold – it is December and that calls for the beginnings of winter hibernation, holiday parties and celebrations.  Whenever I am invited to someone house for a holiday event I always volunteer to bring a "green" dish.  I am not trying to sound environmentally correct, I literally mean something green – sautéed kale, a spinach dip or the Brussel sprouts. Bringing the green dish ensures that I will be having at least a few bits of something very nourishing and filling.
Most people have a love/hate relationship with Brussel sprouts.  We all know how good they are for us (in fact, one of the best green veggies we can eat) but they can taste bitter and bland.  The secret is how to cook Brussel sprouts so they taste delicious.
One way I love to prepare Brussel sprouts is by shredding them.  The traditional way to cook Brussel sprouts is roasting them for about 45 minutes. Shredding, however, makes these cruciferous gems a snap to cook.
The more slicing and dicing you do to a vegetable, the more chance for their natural sweetness and flavors to emerge.  Just think onions.  Simply peeling one might not make you tear up, but mincing a whole onion?  Better have your onion goggles on hand.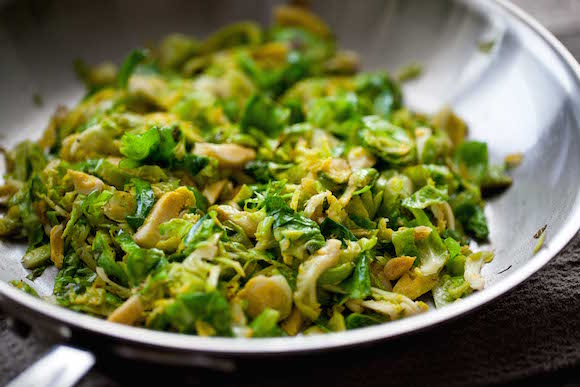 Having a food processor makes the whole slicing and dicing thing that much faster and easier.  If not, no problem, simply slice the Brussel sprouts with a sharp knife lengthwise.
After that, the countdown to your new favorite holiday side dish is on.  It will only take minutes to sauté and serve. Enjoy!
Maple Infused Shredded Brussel Sprouts
Serves 4-6 as a side dish
 Ingredients
 2 pints Brussel sprouts
2 tablespoons extra virgin olive oil
4 cloves garlic, minced or pressed
2 shallots, minced
2 tablespoons real maple syrup
Kosher salt, or coarse sea salt and freshly ground black pepper, to taste
Juice of 1 lemon
 Directions
 Cut off the ends of the Brussels sprouts and place in a food processor using the shredding blade. You can also finely slice by hand until they are all shredded.
 In a large skillet, add the olive oil and heat on medium high. Add the garlic and shallots with a pinch of salt and pepper and saute until fragrant and the shallots are soft about 1 minute. Stir in the Brussels sprouts with a little more salt and saute until tender crisp, 3 to 5 minutes.
Turn off the heat and add the maple syrup and lemon juice. Adjust the seasonings if necessary. Serve hot or at room temperature.