We all have good days and bad days when it comes to healthy eating.  Sometimes it's a beans, brown rice and a green smoothie day. Other days you find yourself digging your fork into your kids macaroni and cheese and finishing off their ice cream cone, only to be sneaking in the kitchen for a midnight snack. A single day, or one decadent meal, should not derail your efforts towards eating the best you can everyday.  Here are five ways to keep it in perspective and to remind yourself that, even on the bad days, you are still trying your best to eat healthy.
You make breakfast a priority. Some people might see a benefit in skipping breakfast: an instant load of calories saved!  But you, as a healthy eater, know differently.  If it has been 8-12 hours since your last meal, your brain is starving and is in need of fuel.  Eating breakfast not only increases your metabolism but lessens your chances of impulse eating throughout the day. Breakfast eaters have been shown to be happier, more energetic throughout the day and will tend to eat less than non-breakfast eaters.
Your meals center around fruits and vegetables – lots of them.  Good for you, because you already know a hidden secret.  Eating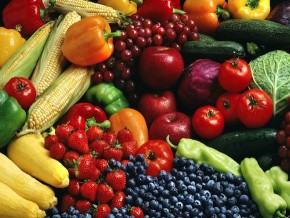 a lot of fruits and vegetables is a  key to weight loss and weight maintenance.  Not only do fruits and vegetables fuel your body with phytonutrients, vitamins, minerals and antioxidants, fruits and vegetables are filled with fiber and water, two key factors in filling you and keeping you full throughout the day.
You know that food should not only be good for you, it should taste good too.  No secret here: life is short, make your food taste good.  The best way to do that?  Knowing how to cook and get creative with fruits, vegetables, whole grains and good for you protein is key to healthy eating.  You have learned basic cooking skills and you know how to balance your food with flavors that make your meals taste delicious. Because you know that otherwise that plate of sautéed kale, or those black beans are going to taste bland, boring and uninteresting.  Suddenly, the McDonald's french fries are going to look really good, and you don't want to go there.
You stay away from foods that cause chronic inflammation in your body.  Chronic inflammation comes from making poor food choices on a daily basis.  Processed foods, too much sugar, white foods such as white rice and pasta, soda and sports drinks all contribute to chronic inflammation.  You can't see or feel this inflammation in your body -until it shows up in the form of diabetes, excess weight, heart disease and a host of other conditions. You know this though.  Instead, you choose fruits, vegetables,
whole grains, dark chocolate for an occasional dessert and water as your drink of choice.
Your focus on protein is plant based.  Is it better to eat as a caveman?  There is no scientific proof to that.  But you know there is wisdom in eating most of your protein that comes from plants: beans, tofu, tempeh, nuts, seeds and nut butters.  These proteins not only have good sources of protein, but many of them are high in fiber and high in good for you fats –  a triple bonus.
Now I would like to hear from you. How do you tell that you are eating your best?  Leave a comment below and join the conversation!
Did you like this post?  Sign up for my free newsletter and receive my FREE e-book Ten Nourishing Secrets today!