Full disclosure: This is not my recipe. I stumbled upon it one Sunday in The New York Times cooking section. That said, often when I look at recipes – from cookbooks, or the Internet – I usually find a way to simplify ingredients or the process to save time and unnecessary steps.
When I took a first glance at this recipe, I knew it would taste delicious, it just needed a little tweaking, which is what I did here. I adore the concept of easy sheet pan chicken and have taught versions of these recipes in my cooking classes. Anytime dinner can be served from one dish is fine by me. These kinds of recipes save you lots of time, are easy to put together and still taste amazing.
Yogurt has a way of making chicken dishes taste so flavorful. I use yogurt as a marinade in many other braised chicken dishes. Plain yogurt can handle heavily flavored spices such as turmeric or cumin and it keeps the chicken crisp, yet tender. It is like an insurance policy from the heat of the oven.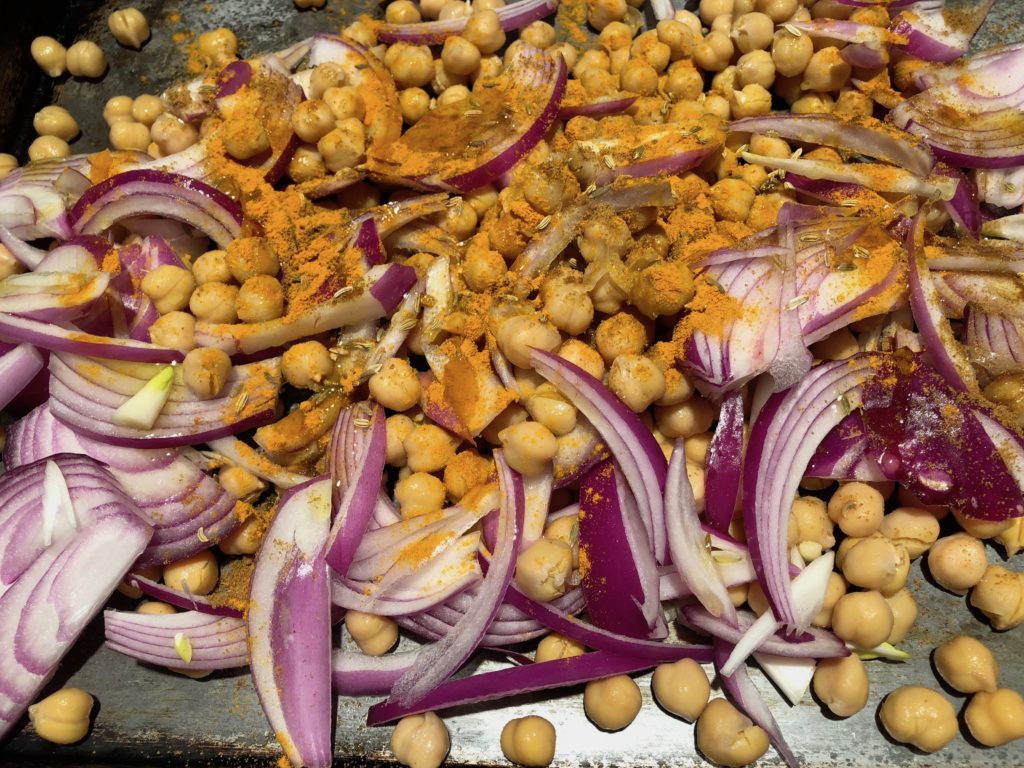 And speaking of spices, if you didn't know that turmeric is the spice of the moment, then you might be living in isolation. I even have a recipe for turmeric milk.
Here's the deal: All spices are very healing and good for you, combined with the added bonus of making our food taste great.
Turmeric, though, is proving to be a real powerhouse spice. It has strong anti-inflammatory properties which help with conditions such as arthritis. There is evidence that it might reduce the incidence of Alzheimer's and certain cancers. Stay tuned, more research to come.
For this perfect sheet pan chicken recipe, the red onion and chickpeas not only up the fiber content, but add more delicious flavors as they roast and caramelize in the pan.
I hope you enjoy this easy to make, healthy, flavorful chicken with chickpeas, cumin and turmeric recipe. Give it a try, it could be your next favorite. I know it's mine!
Sheet Pan Chicken with Chickpeas, Cumin and Turmeric
Makes 4 servings
Ingredients
3 pounds bone-in, skin on chicken parts (I typically use bone-in, skin-on chicken thighs but you can use whatever you prefer )
coarse salt and freshly ground pepper
1 ½ cups full-fat Greek yogurt
4 tablespoons fresh lemon juice, about two lemons
2 teaspoons ground turmeric, divided
1 32-ounce can chickpeas, drained and rinsed
1 teaspoon fennel seed
1 teaspoon ground cumin
1 large red onion, thinly sliced, divided
2 tablespoons extra virgin olive oil
½ cup fresh parsley, chopped
Directions
1. Season the chicken parts with salt and pepper and place in a bowl. Heat the oven to 425 degrees F.
2. In another small bowl, whisk together the yogurt, lemon juice, 1 teaspoon turmeric, 1/2 teaspoon each salt and pepper and 1/4 cup water. Add half of the yogurt mixture to the chicken and toss to coat evenly. Let sit at least 30 minutes at room temperature, and up to overnight in the refrigerator.
3. Set aside the rest of the yogurt and stir in the parsley. You will use this as a sauce for the chicken.
4. While the chicken is marinating, combine the chickpeas, fennel seed, cumin, remaining teaspoon of turmeric and the red onion slices on a rimmed baking sheet. Drizzle with olive oil, season with salt and pepper and toss to coat.
5. Move chickpeas to the outer edges of the baking sheet. Scrape any excess marinade off the chicken (there should still be some left on the chicken), and place the chicken parts in the center. Place the baking sheet in oven and roast, tossing chickpeas occasionally, until the skin of the chicken is evenly browned and the chickpeas are golden and starting to crisp, 45 to 50 minutes.
6. Serve the chicken topped with a dollop of the yogurt sauce.
Did you like this recipe? Please let me know in the comments below!