Although most people think of soup on a cold winter's day, there is something about soup itself that is without its own season. Soup is the nomad of the food world.
Last week I wrote that my twins had their wisdom teeth out. Needing to eat only soft foods for about a week, I first started them on nutritious smoothies (like this one) and then moved onto vegetable based soups. Just because the oral surgeon got my kids all excited with "jello, pudding and ice cream" doesn't mean they have to eat junk food all week. Not my idea for recovering.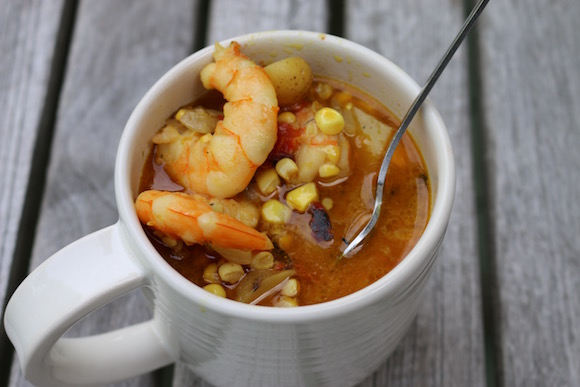 I decided to make something nutritious and comforting yet with the warm weather in mind. For the kids in recovery, I pureed the soup after I made it. For the rest of us, you eat it as is. Simple and delicious.
Curried Coconut Shrimp and Corn Soup
Makes 8 servings
Ingredients
2 tablespoons extra virgin olive oil
1 large yellow onion, chopped
1 teaspoon each salt and pepper
2 cloves garlic, minced or pressed
1 pound small red potatoes, cut into a 1/2-inch dice
6 cups corn (from about 8 ears fresh or you can use frozen)
2 14-ounce can unsweetened coconut milk
2 cups low-sodium chicken broth
1 teaspoon ground cumin
1 teaspoon ground coriander
2 teaspoons curry powder
1 pound medium shrimp, peeled and deveined
Directions
1. Heat the olive oil in a large soup pot over medium heat. Add the onion with the salt and pepper, and cook until soft, about 3 minutes.
2. Add the garlic, potatoes, and corn and cook for 1 minute.
3. Add the coconut milk, broth, cumin, coriander and curry powder. Bring to a boil, then down to a simmer. Cook for another 15 minutes, until potatoes are cooked through.
4. Add the shrimp and simmer until pink and cooked through, about 3 minutes. Adjust the salt and pepper if needed and serve hot.
Note: for the pureed version, blend the soup before adding the shrimp.  You can also puree half the soup to simply thicken it up.