I've had a little thing for pumpkin lately.  It is, after all, October and the air is getting a bit more crisp.  Or it could be that we are having a pumpkin shortage this season.  It's true, look it up and then run to the store to stock up in time for your Thanksgiving pumpkin pies.
While I have been using quite a bit of pumpkin lately, I am not quite ready for pies and breads.  I also prefer to use sugar pumpkins and make use of it in soups or to roast.
I thought a Thai pumpkin dish would be the perfect medium between the full chill of the holidays and easing into the fall. Bright spices and fresh herbs play a key role in this soup and that is exactly how I wanted to feel – light and shiny. It doesn't hurt either that pumpkin is full of fiber, a whole host of vitamins and phytonutrients. I feel good just eating it.
My garden is still producing some beautiful greens and herbs, including this enormous lemongrass plant. It needed a front row seat in the soup I was going to make, as lemongrass is a star in the world of Thai cooking. If you are going to use fresh lemongrass, make sure to mince it finely.  I put mine in a mini food prep to make sure it got really chopped up.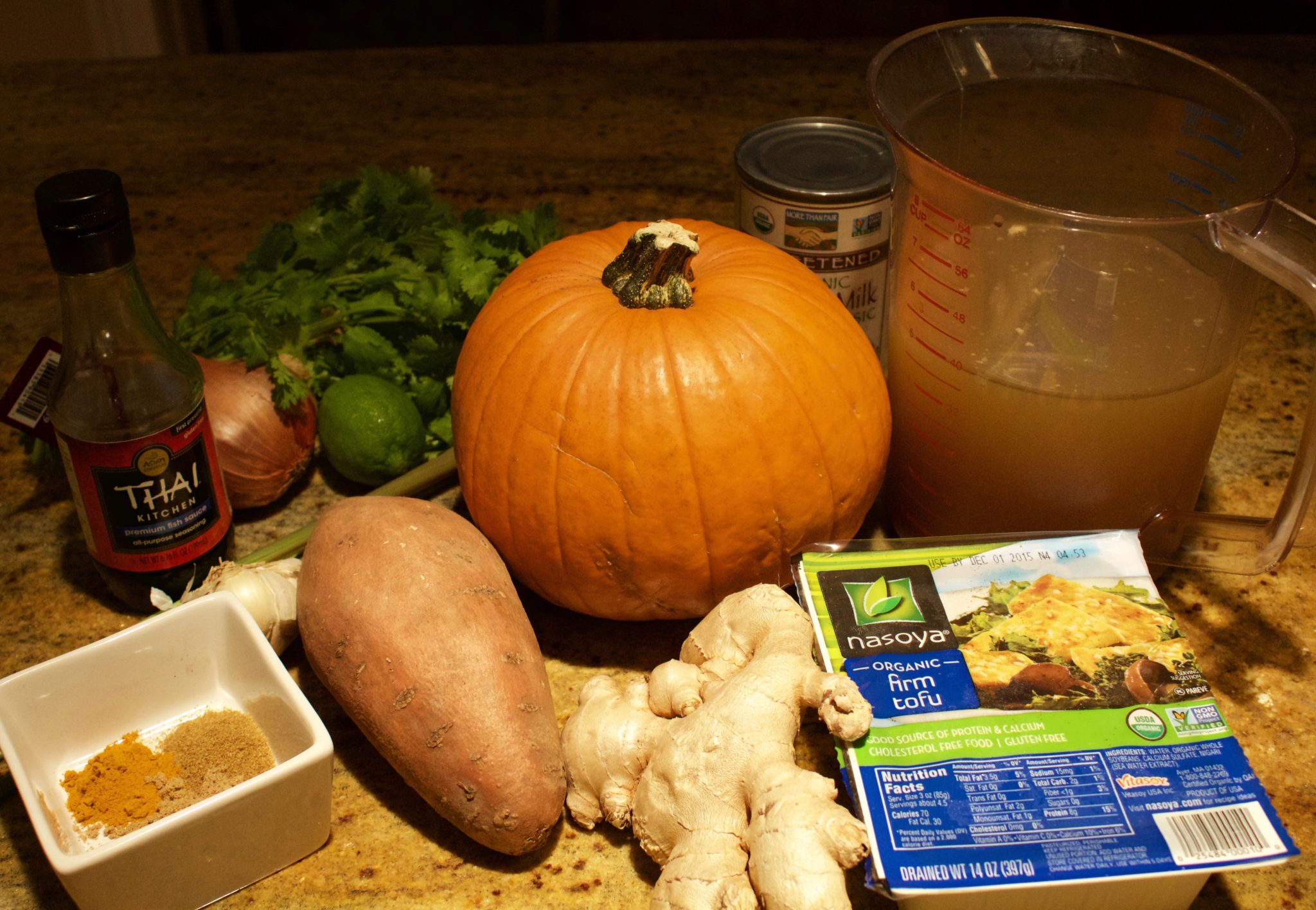 Onto the other ingredients.  Thai cooking can seem complex but it really is quite simple.  There are some ingredients that are consistent in most Thai dishes: coconut milk, ginger, garlic, turmeric, fish sauce, lime juice, cilantro and/or basil. Tofu is a common protein, so I added that in too.
Cubing pumpkin might almost seem impossible because, well, it is round.  I simply sliced off the top (use a sharp knife), pulled out the seeds, used a strong peeler to peel the edges, sliced at the ridges and then cubed. Done.
With any recipe, be sure to prep all your ingredients beforehand.  In fancy cooking, this is called "mis en place", everything in its place. It makes any recipe go so much smoother.
With all the the ingredients in place, this soup is a breeze to make, and so delicious.  Not yet a heavy winter soup and two steps out of summer, it is the perfect use of pumpkin and perfect for mid-fall.
Thai Pumpkin Coconut Soup
Serves 6 
Ingredients
1 tablespoon coconut oil, or canola oil
1 large shallot, minced
1-inch piece of ginger, grated
3 cloves garlic, pressed
4 tablespoons minced lemongrass (or bottled/prepared)
3 cups cubed pumpkin, from 1 sugar pumpkin
1 large sweet potato, cubed
1/2 tsp. turmeric
3/4 tsp. ground coriander
1 tsp. ground cumin
6 cups low-sodium chicken stock
2 tablespoons fish sauce, more to taste
1 tablespoon pure maple syrup
1 can coconut milk
1 tablespoon fresh lime juice (from 1 lime)
2 handfuls baby spinach
1/2 cup chopped cilantro
Directions
In a soup pot, heat the coconut oil over medium heat. Add the shallots and sauce for 2 minutes, until soft.  Add the garlic, ginger and lemongrass and stir for 30 seconds.
Add the pumpkin and sweet potato and stir in the spices for another 30 seconds. Add the chicken stock and fish sauce. Bring to a boil, then cover and bring down to a simmer.  Simmer for 20 minutes.
Place the soup in a blender (being VERY careful when handling hot soup!) and puree until smooth.  Add the soup back to the soup pot and stir in the coconut milk, lime juice, maple syrup and cilantro, spinach and tofu. Continue simmer for another 15 minutes, adjust seasonings if the soup needs it and serve hot.
Copyright© Heather Carey, MS 2015