My husband broke my #1 cardinal rule of grocery shopping: thou shall not enter the store without a list.
Since my back surgery,  I cannot lift, so lucky (or unlucky depending on how you choose to look at it) for me, my husband is in charge of buying food.  He means well, and he has been amazingly supportive of his temporary role as keeper of the house, but I have a system down that I am very much looking forward to getting  back into.
The other day he came in loaded down with all types of vegetables (so nice, he knows me so well!) and tucked in there were a couple of question marks: asparagus and cherry tomatoes.  Okay, I know there are some tomatoes still being sold at farmers markets.  But asparagus – where did that come from?  Not from the local farm. It's okay, flexibility with food these last few weeks has been a must.
As it turns out, a few weeks ago, my friend Katie, a fellow foodie, had sent me a recipe she thought I might like to try.  As I was cleaning out my long overdue inbox the other day I came across it.  Lucky me, it involved tomatoes and asparagus.  I'll forgo the rant about eating with the seasons for now.  It actually has been very mild here where I live, almost summer like.
Now for the rest.  This recipe involves farro, an ancient whole grain made from wheat, that I can't seem to get enough of.  If you do not have celiac's disease you can eat this grain.  If you feel you are gluten sensitive, some people tolerate wheat that comes from simple sources such as farro.  It is slightly chewy and nutty tasting and filled with fiber and b vitamins.
There are also some other ingredients, which, if you have a stocked pantry, you might already have.  Chickpeas, kalamata olives, extra virgin olive oil, balsamic vinegar, onions. It helps to have these around.  All I needed to add in was the ricotta salata and the basil.
This was a perfect salad for what I can handle physically right now.  Easy, quick and so satisfying.  And so good for you – even if there is a few veggies that belong in another time of the year.  The next time I make this I thought I would add a bunch of arugula in place of the asparagus, which happens to be growing profusely in my garden right now.  I would also eliminate the tomatoes, fresh tomatoes in winter just don't seem right at all.  In any case, farro and chickpeas are a perfect, timeless, base to add really whatever you please.  Play around with it and come up with your own creative ideas.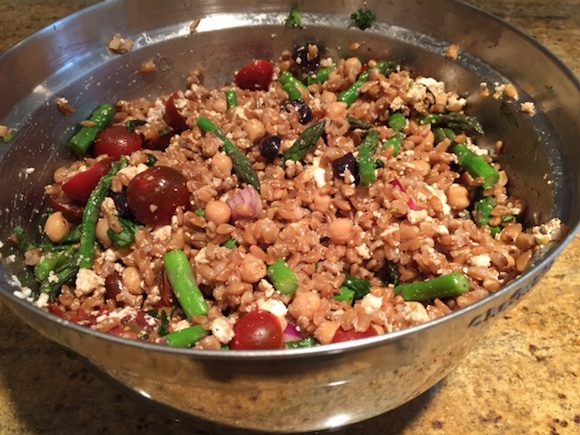 Farro Chickpea Salad
I am serving this tonight with roast chicken but you can easily eat this on its own as a vegetarian meal or with another protein.  Also, be sure to use ricotta salata, not plain ricotta for this recipe.  it is a hard cheese that is crumbly, salty and briney, which adds so much flavor to this recipe.
Ingredients
2 cups farro
2 teaspoons kosher salt, divided
1 pound asparagus, trimmed and cut into 1-inch pieces
15-ounce can chickpeas, drained and rinsed
1 pint grape tomatoes, cut in half lengthwise
1/2 small red onion, cut into small dice
1/2 cup chopped Kalamata olives
1 cup crumbled ricotta salata
2 tablespoons balsamic vinegar
1/4 cup extra virgin olive oil
1/2 cup chiffonade of fresh basil
Freshly ground black pepper
Directions
1. Place the farro and 1 teaspoon salt in a large saucepan and add enough water to cover by 4 inches. Bring to a simmer over medium heat and cook until tender, about 45 minutes. Drain in a colander and transfer to a mixing bowl large enough to hold the remaining ingredients. You want the farro to cool to about room temperature.
2. While the farro is cooling, cook the asparagus in a pot of boiling water with 1 teaspoon salt for 2 minutes. Drain well, rinse in cold water. This is also a good time to prep the rest of the ingredients.
3. Add the asparagus, chickpeas, tomatoes, onion, olives, ricotta salt, vinegar, olive oil, and basil to the farro and gently toss. Season with salt and pepper to taste.
4. You can cover and  refrigerate this salad for up to 3 days but bring to room temperature at least 1 hour before serving.
Recipe inspiration courtesy of Splendid Table